Realizing the importance of a Guide and a driver Zoid Jin Tour sends their staff for the refresher course and many other training's. They are able to keep the opening and closing timing's of monasteries, Dzong's, and temples which changes frequently. They are mostly trained on Iconography and the upcoming festivals / Events. They are also trained on do's and don'ts while visiting monasteries and Temples.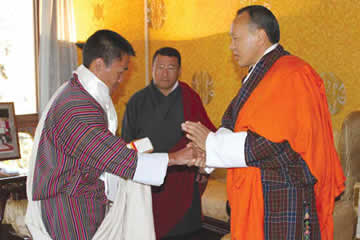 Our drivers are trained on cleanness , punctuality and patience while in tour with our tourist and Guide. They were also trained about the road conditions within Bhutan. They were very honest not only for our tourist but to the nation as well. As an example Zoid Jin Tour company driver Mr. Tashi Dawa has returned bag full of money worth 6.8M to his owner after he found in mid night at Paro town. 
As an honest citizen he was honored by His Majesty the fifth King with the order of Merit (silver) for his integrity and honesty. He was also rewarded Nu. 50,000 by Prime Minister from the Government side for showing an example to the people of Bhutan
So our Guide and driver enjoys meeting people from all over the world and getting to know their culture through daily interactions while on the tour. Managing Director of Zoid Jin Tours felt pride on Guide and Driver for never disappointing travelers under their care. Always ready to help with a big bright smile to our Guest.
So realizing the importance of refresher course , we consider Zoid Jin Tour company to be the perfect tour operator in Bhutan.