Bumthang / Jakar is a district in the north-central region of Bhutan, and due to the great number of sacred sites there, it is often referred to as the country's spiritual heartland. Comprising of four smaller valleys namely Tang, Ura, Choekhor and Chumey, the deeply spiritual region of Bumthang is shrouded in religious legend. Bumthang is also the traditional home to the great Buddhist teacher Pema Linga to whose descendants the present dynasty traces its origin. 
Places to visit in Bumthang / Bumthang Sightseeing's 
Burning Lake
Terton Pema Lingpa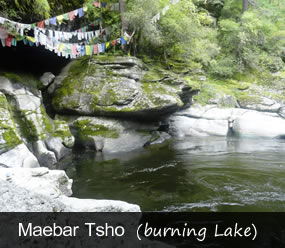 Pema Lingpa was born in central Bhutanese region known as Bumthang and is believed to be the spiritual son of Guru Rinpoche. His father was Lama Döndrup Zangpo and his mother, Pema Drolma. Pema Lingpa was bought and raised by his Grandfather who was a blacksmith. As a young boy Terton pema Lingpa was taught the art of blacksmith.
One day at the age of 27, when he went to collect some mushrooms there he meet a stranger who offered him a scroll and disappeared. As a young boy he was taught only the art of blacksmith but do not know how to read and write. After the stranger who offered him a scroll, Pema Lingpa knew how to read and write. It was believed that the stranger was Guru Rinpoche only.
So in that scroll, it was written that you should go down below the river and there is a lake. You should jump in the lake and should discover the treasure hidden by me. So he went down below the river where it looks like a lake and he felt somebody pushed him inside. It was believed that he had seen a temple with 108 doors and there was a woman with only one eye who opened one of the doors and so he came back with a treasure. During that time there was a local king known as Choekkor Dep and Choekkor Dep did not believed about the Terton Pema lingpa's discovery.
So to make the people believed on him, Terton pema Lingpa gathered all the people including the Choekkor dep in one of the full moon day and made the proclamation "If I am a spiritual son of Guru Rinpoche, I will be coming back with treasures, without getting my cloths wet and my butter lamp will be still on but if I am a spiritual son of a demon let me get drowned and die".
Pema Lingpa dove in and resurfaced some time later holding a small crafted box, a small sculpture and the butter lamp which was still alight. Choekor Dep got angry and thought he was cheated then he took out his sword and cut the box and there it was believed that there was a statute inside the box and statue's flew in three directions. So the name of the lake is known as Me bar tsho or the burning lake.