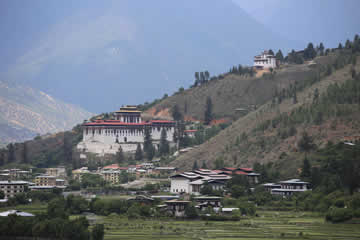 This beautiful Paro valley is about 2000 m above the sea level. Paro is believed to be one of the first valleys to have received the influences of the Buddhism.It is the site of the country's only international airport and is also known for the many sacred sites in the area. North of town, the Taktsang Palphug (Tiger's Nest) monastery clings to cliffs above the forested Paro Valley. Northwest of here are the remains of a defensive fortress, Drukgyel Dzong, dating from the 17th century. 
Places to Visit at Paro / Different Sightseeing's at Paro
Paro Dzong
Paro Dzong, also known as Rinpung Dzong meaning heap of a Jewel was built by Zhabdrung Ngawang Namgyal in the year 1646. During those times the dzongs were built mainly to protect from the Tibetan invaders and the story of the Paro Dzong began in the 15th century. During 15th Century there lived two brothers namely Gyalchog and Gyelzom who were the decedent of Phajo Drugom Zhigpo and they were the fedal lords in Paro . The elder brother Gyelchog went to study Theology (Study of the nature of God) in Tibet. He spent all his life time in studying without earning a penny.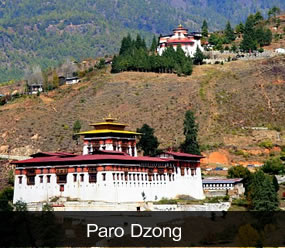 After completion of his studies he came back to Paro but his younger brother Gyelzom refused to invite his brother saying that he don't have baggers at their families. Gyelchog the elder brother of Gyelzom start meditating near the Paro River.
One day he was prophesied that if he go and mediate on the top of the hill where it looks like a heap of a jewel and there he will find his destiny. As prophesied he gained lots of power and followers. There one of his disciples built a five storied temple and offered to Gylechog as a token of gratitude and the temple was named as Hungrel. Even his younger brother, Gyelzom realize the mistake he has done and he apologize for the mistake and became the follower of Gyelchog.
During 17th century , after Zhabdrung Ngawang Namgyal unified Bhutan, Knowing the supernatural power of Zhabdrung , their decedent Pha drun drung offered the temple to Zhabdrung Ngawang Namgyal.
In 1644, Zhabdrung Ngawang Namgyal dismantled the Dzong and in the year 1646 he built the dzong into present structure.
At present day it functions as the district administrative office headed by the governer known as Dasho Dzongdag and the monastic body comprises of more than 200 monks headed by the Lam Neten equivalent to the Governor.
The importances of Paro Dzong are:
1. The wedding ceremony of the third king was held in Paro Dzong during 1951
2. The first national assembly was also held in Paro Dzong in the year 1953
3. The international movie/flim called ' Little Buddha ' was also shooed here in the year 1994