Regional Tourist to Bhutan
Regional tourist do not have to pay the international tourist tariff to visit Bhutan. Goods and travel services are consumed on their own discretion.Regional tourist are Indian, Bangladesh and Maldivian national. So Indians, Bangladeshis and Maldivian nationals can obtain a visa at the port of entry on producing a valid passport with a minimum of 6 month validity (Indian nationals may also use their Voters Identity Card (VIC)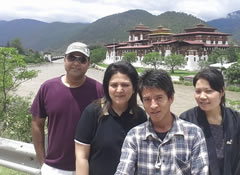 However our zoid Jin Tour company has seen that it was difficult to provide quality services and security in Bhutan, when they travel on their own. We also found out that our regional tourist were not able to experience and explore our unique culture, age-old customs and traditions besides the attractions and offerings that Bhutan has.
So, tourists are encouraged to hire guides and come through local tour agent like Bhutan Zoid Jin Tours. "We treat tourists as our guests and they should not be left on their own," Therefore, Zoid Jin Tour company would like to take opportunity in catering to the various needs of the regional visitors. We specialized in Regional Tourist with competitive price that will make our regional tourist to travel with us. We have every necessary provisions and knowledge to ensure and look after the visitors with great care and guidance. The company would provide all the necessities with trust and taste.
Pax
PACKAGES
AP (Per Person)
PACKAGES
MAP (Per Person)
PACKAGES
CP (Per Person)
Contact
1
Rs. 6500/night
Rs. 6050/night
Rs. 5500/night
MAKE AN ENQUIRY
2 - 4
Rs. 5000/night
Rs. 4550/night
Rs. 4100/night
MAKE AN ENQUIRY
5 - 10
Rs. 4100/night
Rs. 3800/night
Rs. 3500/night
MAKE AN ENQUIRY
11+
Rs. 3999/night
Rs. 3500/night
Rs. 3100/night
MAKE AN ENQUIRY
The above price is inclusive of the following as per the packages.
AP (American Plan)
MAP (Modified American Plan)
1. Accommodation on twin sharing basis 
2. Land Transportation within Bhutan.
3. All Meals – Three meals a day .
4. Guide services (English Speaking Guide)
5. Sightseeing as per the itinerary.
1. Accommodation on twin sharing basis 
2. Land Transportation within Bhutan.
3. Meals – (breakfast and dinner )– No Lunch
4. Guide services (English Speaking Guide)
5. Sightseeing as per the itinerary.


CP (Continental Plan)
The above price is exclusive of the following:
1. Accommodation on twin sharing basis
2. Land Transportation within Bhutan.
3. Meals – (Breakfast ) – No Lunch & Dinner.
4. Guide services (English Speaking Guide)
5. Sightseeing as per the itinerary.



1. Travel Insurance
2. Medical Expenses
3. Drinks
4. Sleeping Bags on treks
5. Tips to guide and driver
6. Other Personal bills
7. Airfare (Optional) We will book for you if require. 

8. Entrance Fees
Again we do have different packages for the regional tourist looking for a budget tour. For this please email us at: This email address is being protected from spambots. You need JavaScript enabled to view it.