Built in 1648, it was the seat of power over central and eastern Bhutan.  Both the first and second kings of Bhutan ruled the country from this ancient seat.  All four kings were invested as Trongsa Penlop ("governor") prior to ascending the throne.  The dzong is a massive structure with many levels, sloping down the contours of the ridge on which it is built.
Trongsa Sightseeing's 
Trongsa Dzong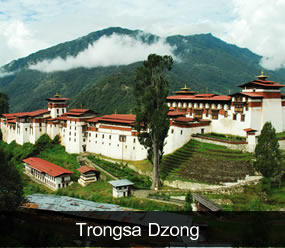 Trongsa (means a new town) is one of the dzongkhags (districts) in central Bhutan located along the Thimphu-Tashigang highway.
Lama Ngagi Wangchuk (the onle who built the Jakar Dzong) (1517-54), a Tibetan Drukpa lama, who was the great-grandfather of the Zhabdrung Ngawang Namgyel (1594-1651), is believed to have travelled through the region in 1541.
While meditating in a village called Yuling, lama witnessed a light ("from a body of lamps") at the furthest point of the spur.and heard sounds made by horses belonging to Palden Lhamo, the female protective deity. This point is where the dzong stands today. It is also believed that when the lama, out of curiosity, went to check out the place saw Palden Lhamo's "soul-lake" (la tsho) and footprints of the horses. Considering this to be an auspicious sign, the lama built a small temple here, after two years, in 1543. So after his started living in the temple, many of his disciples gathered and started settling nearby the temple. So that's why it is called Throngsa (New village).
After the arrival of Zhabdrung Ngawang Namgyal to Bhutan in 1616 and the start of his process of unification of the country soon after, the Zhabdrung felt the need for an administrative centre. The strategic location of the temple resulted in selection of the place for the construction of the dzong. Hence, in 1647, Minjur Tenpa, then the Trongsa Penlop and the future 3rd Desi, constructed the dzong in the same spot where the temple was erected by lama Ngagi Wangchuk following instructions from the Zhabdrung; however, Pommaret claims that the dzong was first established by the Zhabdrung himself.
Today the dzong serves both as the administrative and monastic centre for the district. The Dzongda is the head of the district administration while the Lam Neten is the head of the monk-body (dratshang). Trongsa Dzong is the one where our present monarchy came to power. That's why before becoming the king they should live in Trongsa as Trongsa or Choesi penlop preparing for the post of kingship.